"Dictate" is relatively recent addition to Office that allows you to dictate directly in Word. 
Coming shortly will be a new Transcribe feature which allows you upload an audio file, and Office will turn that directly into text. The transcription is saved into your OneDrive account in a new transcribed files folder.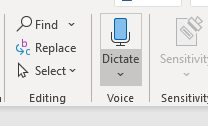 The difference is that "Dictate" takes your voice in real time and puts it directly into the document that's open in front of you. It has some basic editing features which allow you to refine what you see on the screen. Your speech isn't recorded for later playback. "Transcribe" either lets you record audio then, and there, but the transcription occurs after the recording is complete, and not in real time. It also lets you upload a file, such as MP3, MP4 or WAV. It can be a file you downloaded from somewhere else and transcribe that. Different speakers are noted under different headings and the entire recording is saved in that transcribed files folder that we mentioned earlier.
This transcribe feature is available only in Microsoft 365 and in US English – more languages will come soon, and there are limits on file size.
Reference
Microsoft Transcribe Support